Cyr-To-Lat plugin converts Cyrillic characters in post, page and term slugs to Latin characters. Useful for creating human-readable URLs. Our company takes active participation in development of the plugin.
Features
Converts any number of existing post, page and term slugs in background processes
Saves existing post and page permalinks integrity
Performs transliteration of attachment file names
Includes Russian, Belorussian, Ukrainian, Bulgarian, Macedonian, Serbian, Georgian, Kazakh, and Hebrew characters
Transliteration table can be customized without editing the plugin by itself
Links
Detailed description is availbale in the official WordPress repository, where you can download the plugin
For developers, there is repository on GitHub, where technical discussion and new features suggesstions are welcome
For live discussion, there is the Telegram group Cyr2Lat, where you can communicate with plugin developers
Compatibility with WPML
Plugin is officially compatible with WPML.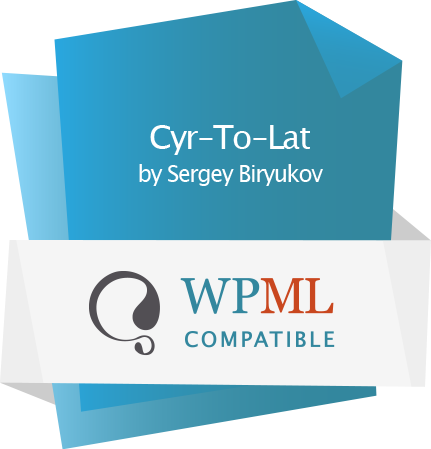 Plugin perfroms transliteration basing on current locale. When language locale is switched in WPML, plugin switches transliteration table accordingly.
Cyr-To-Lat was initially tested with WPML 4.2.7. However, there is no doubt that it can work with much more recent versions of WPML. To function properly on multilingual site, Cyr-To-Lat needs only main WPML plugin (WPML Multilingual CMS).
Activation and usage of Cyr-To-Lat with WPML has no difference with standard usage. All required actions on multilingual site plugin performs automatically.
Cyr-To-Lat is translated to several languages: Russian, Ukrainian, Swedish. Translation to other languages is the same as standard WordPress procedure:
Example of usage
Let us assume that on site with WPML we have two languages: Russian and Ukrainian. These languages have a word with the same spelling and meaning: пиво (beer). When a post with the title "Пиво" to be created, it will get slug pivo. After switching language in WPML to Ukrainian, a newly created post with the same title will get the slug pyvo.
This is because of that on language switching Cyr-To-Lat switches its transliteration table.